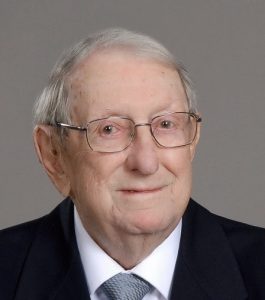 James Henderson "Jim" Sparger, Sr.(7 Sep 1921 – 2 Nov 2021)
James "Jim" Sparger, 100, passed away on Tuesday, November 2nd. He was preceded in death by his wife of 70 years, Amanda Bell Sparger.
Jim was both a World War II and Korean War veteran. After the Korean War, Jim returned to his native Greensboro and was employed by Home Federal Savings andLoan, where he rose in the firm to become Senior Vice President. In 1977, Jim moved to Durham where he was President of First Federal Savings and Loan. Retiring in 1989, in 1994 he and Amanda moved to Candler to live close to family.
He was a member of Trinity United Methodist Church, Lake Junaluska Golf Course, and a life member of Elks and the Assoc.of the U.S.Navy.
Jim is survived by his son Jay Sparger (Susan) of Leicester and daughter Meg Hoffman (Ed) of Atlanta, as well as three grandchildren: Sam Sparger of Charlotte, Will Sparger of Leicester, and Amanda Sparger of Auckland, NZ.
At Jim's request, services are to be private with the immediate family. He will be interred at the NC Veterans Cemetery in Black Mountain alongside his wife Amanda.