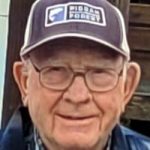 Paul Lindsey Mann
(16 Jan 1930 – 13 Mar 2022)
Mr. Paul Lindsey Mann, 92, passed away at his home Sunday, March 13, 2022.
Mr. Mann was born January 16, 1930, in Transylvania County to the late John Wesley Mann and Lesie Lance Mann. He was preceded in death by his wife of 62 years, Mary Patelidas Mann, son, Christopher Paul Mann, and all of his siblings: Pete, Jerry, Bud, Edna Danielson, and Mary Hall.
Left to cherish his memory are his son, Michael Lindsey Mann and his wife, Sonja; a grandson, Robert Paul Mann and his wife Rachel; and a great-grandson, Russell Paul Mann. Paul will also be missed by many nieces, nephews, and friends.
Paul grew up in the mountains of W.N.C. and graduated from Brevard High School. He studied electronics at the Commercial Trade Institute and Coyne College in Chicago. He then served our country for 4 years in the United States Navy as a Machinist Mate during the Korean War.
He started his work in restaurant equipment and soon after opened Service Engineering Company in Asheville in 1961, where he worked until he was 90 years old.
Paul was a former Scoutmaster, Scout Committee Member, Webelos Leader, and Cub Master of Troop 3, Asheville. Both of his sons and grandson are Eagle Scouts. He was an active member of Trinity United Methodist Church since 1956, where he served on the Administrative Board, as President of United Methodist Men, and as Chairman of the Trustees. He volunteered on 19 mission trips with building teams to Mexico, Costa Rica, Puerto Rico, Haiti, and Alaska.
A memorial service will be held Saturday March 26, 2022 at Trinity United Methodist Church in West Asheville at 3:00 pm in the afternoon with the Reverends Nancy Dixon Walton and Rodney Hagans officiating. The family will receive friends one hour prior to the service.
Memorials may be made to Trinity United Methodist Men Fuel Fund, 287 Haywood Road, Asheville, NC 28806.